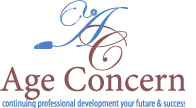 Age Concern Pty Ltd
Business / Practice Details
Business / Provider Type
Education Provider
Services Offered
CPD Courses
Interest Areas / Topics Covered
Aged care
Business / Provider Profile
Established in 1986, Age Concern Pty Ltd is one of Australia's oldest, private, continuing professional development organisations for registered, enrolled nurses and now, nurse practitioners.


Our Mission & Vision
Age Concern Pty Ltd empowers nurses, allied health professionals and other health care workers through evidence based education and training.

Our vision is to set the standard of excellence in the education and training in gerontic care, thereby enhancing the quality of care outcomes for all older Australians.

Core values

Integrity
Respect
Excellence
Accountability
Partnerships
Diversity
Innovation
Humour
Why us
We are passionate about the quality of our programs.

Recognising that few people can be experts in all areas, we contract qualified and experienced professionals who are recognised experts in their chosen fields and who have the ability to share their knowledge.

Our long standing reputation means we are able to attract nationally and internationally renowned professionals such as Prof. David Ames, Prof. Geri R Hall (USA) and Dr Rosalie Hudson to facilitate our programs.

Whether you work in the community, a hospital, in residential aged care or a respite organisation, we are sure to have continuing professional development programs to meet your needs – if not we can develop a custom program for you.
41 Clunies Ross Cr,
Mulgrave VIC 3170, Australia
Listing current courses and events posted by Age Concern Pty Ltd
No matching course or event posts found.